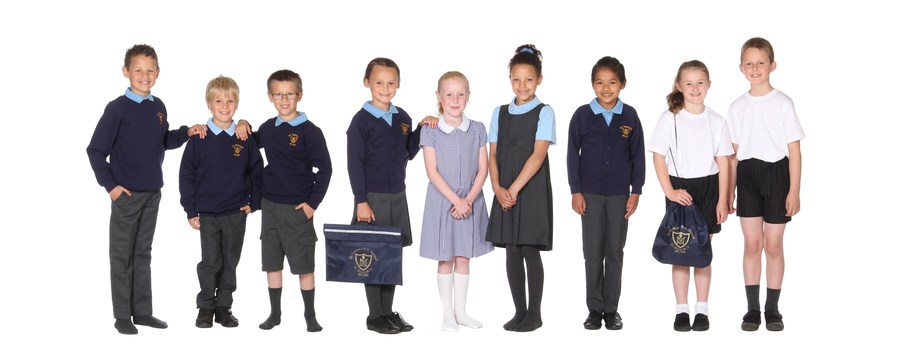 This is a picture of our children in our revised school uniform. We plan to roll in these new uniform guidelines over a period of 12 months. We hope you will support us in our goal to achieve uniform consistency throughout the school by September 2017.
School uniform is compulsory from Reception - Year 6
Our uniform consists of the following:-
Boys Shoes
Navy blue sweatshirt with school logo Both girls and boys will wear all black school shoes.
Light blue polo shirt with or without logo This might be a trainer style shoe but will not have
Charcoal grey trousers (winter) any coloured branding. In the winter the girls are
Charcoal grey shorts (optional in summer) able to wear black ankle boots.
Black School shoes
Grey socks
Girls PE Kit
Navy blue sweatshirt or cardigan with school logo Plain white t-shirt with or without logo
Lights blue polo shirt with or without logo Black shorts
Charcoal grey skirt, pinafore of trousers Jogging pants may be worn outside in the winter
Navy blue gingham dress (summer) Black pumps (indoor)
Black school shoes Trainers (outdoor)
Grey tights/socks (winter)
White socks (summer)
JEWELLERY:
Jewellery and valuables are not allowed. It is the Policy of the school governors that no child (either boy or girl) will be allowed to wear jewellery during school time. This includes studs and sleepers. The reason for this decision has been taken on the grounds of safety, especially during games and P.E. or swimming. Neither can the school be responsible for the loss of such items. Watches are permitted.
HAIR:
Boys hair - no patterns, no shorter than number 2.
Girls hair - Long hair needs to be tied back, suitable hair accessories.
To buy name labels please click below: